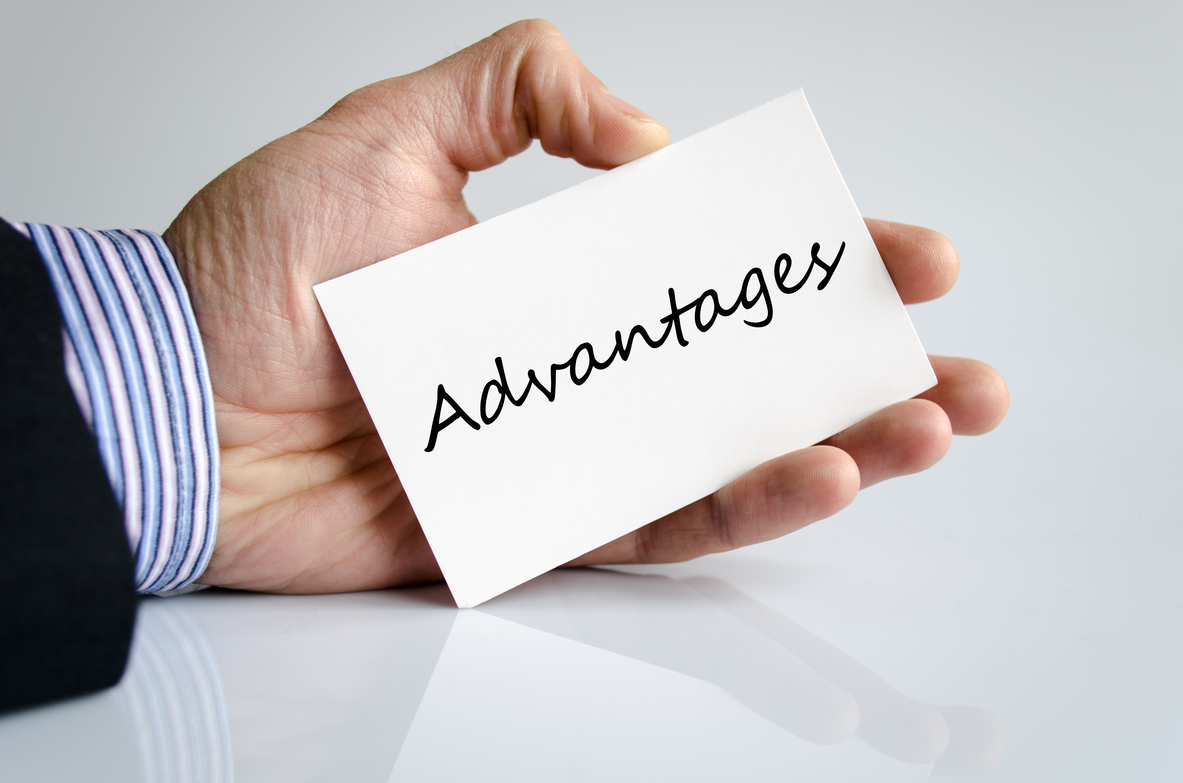 Estimated Reading Time: 9 minutes 45 seconds.
The many advantages of franchising make it a very attractive option for potential entrepreneurs. With drive and ambition you can accomplish your dreams and eliminate or reduce many of the potential issues of starting a business independently.
If you're still unsure of the route you want to take, here are 9 fantastic advantages of franchising that could sway you.
1. Shared Risk & Benefits
Starting a business always involves risk, but one of the major advantages of owning a franchise is that you're buying into a tested system with existing successful members. They've already proven you can profit from the business model and tapping into a good network means it's less likely you'll fail.
According to the Canadian Franchise Association's 2017 Advocacy Survey data, 62 percent of franchises have operated in Canada for at least 11 years. They also have a record of success, with half of all franchisees sticking with the same brand for more than 10 years.
Since the franchisor includes owners operating in various markets, you also know the business model, products, and services work effectively. Each member has the backing of the larger corporation and all business owners work under the common brand and share the benefits. When it comes to franchising, everyone is literally invested in success.
2. Brand Power & Loyalty
Starting a business from scratch involves developing and testing products and services and building brand credibility and loyalty. When you buy a franchise, you bypass much of this work since the franchisor has already developed the brand.
Franchising gives you instant access to an established, recognized brand which can jump start your path to profitability. The brand's established online and offline presence, credible customer testimonials, and recognition in the community make it easier to connect with customers.
Potential customers can read what others say about the brand to decide whether the business aligns with their needs. Good testimonials give others the confidence they need to connect and work with the brand too. If you start a business from scratch, you must create that presence and credibility before anyone will connect or even consider buying.
A franchise offers consistency and consistency benefits customers, franchise members, and the network. Customers know that they will receive the same high quality products and services no matter where they choose to connect. If a customer knows the brand and expands into a new territory, they're more likely to rely on the brand again.
Buying into a brand also taps you into the franchisor's collective buying power. They access bulk prices and pass their savings onto franchisees. This leads to lower prices for supplies and inventory than you could access as an independent business owner.
One often overlooked benefit of franchising is shared marketing costs. Every new business must invest in promotion if they want to succeed. Franchise networks often offer overarching regional and national advertising campaigns which leads to lower costs.
Of course, the franchisor has helped many other franchisees start their business so they can provide valuable local advertising advice which can also save you time and money.
Since your franchise operates under the franchisor's brand name, you can also rely on them for advice and support to avoid any legal issues that can arise in business. They also understand franchise law and can either connect you with their franchise lawyer or direct you to appropriate advice in your province or territory, as regional law varies.
3. Unlimited Growth Potential
When you work for someone else, there's always a limit to how much you can earn and it's always within the confines of the company's demands. You might work grueling hours to make top dollar, only to discover the company's taken a direction you don't appreciate or even worse, you're redundant.
One of the greatest draws towards entrepreneurship is the potential to make your own decisions, directly benefit from your actions, and build wealth. You could start an independent business, but it would certainly take you much longer to build wealth. You'd have to get through the initial process of establishing your brand and developing products, services, policies, and procedures first and that can take years.
Franchising speeds up the process. Yes, you'll work hard, but you'll spend far less time on the setup process. Instead, you'll get down to building your business so you can start earning money. Some franchise models also allow you to run a home-based business with additional advantages.
You only need look at some of the most popular franchises to see how immensely profitable and successful they can be. Almost every major hub in Canada has at least one Tim Hortons, Subway, or Canadian Tire. That wouldn't be the case if franchising wasn't a great option.
4. Fantastic Business Choices for a Modest Investment
You needn't invest heavily to enjoy the benefits of a franchise. While big brand franchises can cost upwards of a half million dollars, many companies offer great opportunities at a more modest investment level.
Nonetheless, franchises that only want a small investment such as $10K are usually in a saturated, high-risk market so they're not a good investment at all. For most budding entrepreneurs, an investment of around $100K to $150K works well as it ensures a dedicated, unsaturated territory with room for business growth and the extensive franchisor support you need.
Putting your money to work and actively managing your business can lead to greater profits than you could ever dream of earning through traditional investments.
Additionally, you can choose a new industry, find a new career, and expand your business and personal skills; all under the helpful guidance of a proven leader.
5. Motivated, Effective Management
A good franchisor is very motivated to help owners and the network succeed. They make decisions based on what works well for the brand, but that doesn't mean they don't listen to the franchisees.
On the contrary, a good franchisor thrives of feedback and innovation. Entrepreneur.com lists collaboration as one of major reasons an individual should consider franchising over owning an independent business.
A good franchisor listens to member ideas, analyzes which benefit the brand, and implements the most viable. They also keep a sharp eye on expenses and performance and always strive to increase revenues and eliminate inefficiencies.
They also connect with regional and national organizations, follow industry trends, and monitor legislative changes. By continually improving their knowledge, management skills, and the brand they ensure the business model remains relevant and competitive in an ever-changing market.
6. Hit the Ground Running
Opening a privately-owned business is a daunting, complicated task, especially for a first-time owner. However, good franchisors are highly-invested in their franchisees and offer plenty of assistance to get the new member's business up and running as quickly and effectively as possible.
A good franchisor provides intensive initial training so the franchisee understands the business model, policies, and procedures. They also offer valuable pre-opening assistance such as advice on opening inventory levels and marketing strategies so the new member feels fully-prepared before they officially open their business.
Nonetheless, not all franchises offer a very quick start up due to the complexity of the business model. For instance, a restaurant franchise setup could take a year or more, because it involves site selection, restaurant design, construction, inventory, employee training, and more.
However, some franchises have you up and running within 60 to 90 days of signing your franchise agreement. A quick start up is very appealing as you can recoup your investment and earn revenues quickly, instead of locking your money into an investment without profits.
7. Extensive Support
A good franchisor also offers ongoing support and connects the new member with other owners in the network. If you have questions, franchisees can offer advice and encouragement since they'll been through the process themselves and know the business model.
If you have a question about a product, inventory, marketing, or even how to complete a form, someone's there to help you. Some franchise networks can also connect franchisees with financial assistance if they want to expand.
With franchising, you run your own business, but you're not alone. As a franchise member you tap into resources and opportunities unavailable to an independent owner. This often includes seminars, continuing education, and networking events. All this is invaluable to a new business and especially to someone new to the industry.
A good franchisor wants you to succeed and they're available to you along the way. Your success leads to network success, which benefits everyone.
8. Achieve Work/Life Balance
One of the greatest draws of entrepreneurship is a better work/life balance. Instead of working long hours for someone else just to earn a pay cheque, entrepreneurs want to seize opportunities, make decisions and enjoy the benefits of their efforts, and create a business with a more flexible schedule to blend work and home life more readily.
However, not every franchising opportunity offers the flexibility an entrepreneur might want. Some are very rigid and demanding, while others offer flexible options such as starting your business from home.
Instead of sitting behind a desk and in commuter traffic, franchisees can often balance routine business requirements such as scheduling appointments and administrative duties with stimulating customer contact in the field. Without commuter time and countless meetings, you can focus more on your business and increasing profits.
Operating a home-based business also reduces overhead, commute, and vehicle costs and you can deduct a portion of your mortgage interest, property taxes, utilities and repairs and maintenance, against your business income. Plus, you can carry forward any unused credits to offset profits in future tax years.
Reduced fixed costs also provide you with a competitive advantage. While the franchisor might suggest baseline prices, a franchisee has the freedom to offer more favourable quotes when responding to their local market and customer needs.
Of course, the greatest advantage of working from home is greater time management freedom. You can juggle your schedule to meet your family and social obligations and connect with customers at their convenience too.
9. New Career
A good franchisor provides you with the training and support to expand your business skillset. However, a good opportunity also taps into your transferrable skills gained through your years of work, such as sales and customer service experience.
Clearly, it is very important to research franchising thoroughly to decide whether the business model and training offered aligns with your personal and business goals. However, the right opportunity is a great way to start a new career and a business of your own.
Look for a franchise with a long track record of franchisee success and a comprehensive training program. Check for participation in nationally recognized organizations such as the Canadian Franchise Association that advocate for the franchise industry and govern members through a strict code of ethics.
Also determine whether the franchisor has received any prestigious awards based on franchisee response. For instance, the CFA Franchisees Choice Award measures the performance of a franchise based on franchisee feedback. These awards indicate the franchisor focuses on its members for greater business and network success.
*****
The ideal franchise candidate must be in position in their life where they have the resources to invest in their future and the drive to become an entrepreneur. Entrepreneurship can offer financial freedom and choosing a franchise with unlimited growth potential and a quick start up can eliminate the long runway needed to launch an independent business.
Matching your business and personal goals and skill set with the right franchise opportunity increases your chances of success. Postcard Portables' highly-respected brand and strong franchise network offers unlimited growth potential for a low investment amount. We offer home-based business franchise opportunities throughout Canada and most franchisees are up and running in 60 to 90 days. Those with sales experience or anyone looking for a balance between face-to-face customer interactions and routine administrative tasks would find a franchise with Postcard Portables very attractive. Contact us – we're always happy to help.